With Christmas and New Year's dinner on the horizon, our minds are transported to the heart of traditional Italian holiday fare. These festive feasts, steeped in centuries of customs and rituals, serve as a testament to the deep-rooted gastronomic heritage of Italy. A fusion of enduring techniques, generational secrets, and time-honoured flavours, these meals narrate a vivid tale of Italy's culinary voyage.
Enter Casa Nova, the beacon of authentic Italian cuisine in Australia. Here, every plate laid before you echo Italy's rich history. As you savour each bite of masterfully crafted dishes, from the robust flavours of slow-cooked roasts to the delicate finesse of handmade pasta, you'll find your palate awash with the vibrant essence of Italian tradition. Let Casa Nova guide you through traditional Italian holiday meals' past, present, and future, wrapped in the warm embrace of hospitality only Australia can offer.
A Quintessential Italian Christmas Dinner
Imagine walking through the doors of Casa Nova for a Christmas dinner in Newcastle, where a festive ambience and the scents of traditional Italian recipes greet you. Italian Christmas dinners are ceremonious affairs marked by multiple courses, each prepared with love and intent to bring good luck and prosperity for the forthcoming year.
Kickstart your feast at Casa Nova with an alluring antipasto of cheeses and marinated veggies. Steer forward to entrées like creamy tomato bruschetta or grilled lamb rack. As evening draws in, the excitement mirrors a New Year's Eve ball drop, reaching its peak with a second course of meat-lover traditional pizza or hearty pan-seared veal taking a vantage point on the table.
Embodying Italian traditions in every dish, Casa Nova's Christmas dinner is your passport to a warm Italian holiday celebration in Newcastle. Seize these brilliant Christmas and New Year's Eve dinner ideas offered by Casa Nova to bring the soul of Italy to your holiday table.
Ringing in the New Year at Casa Nova – A Genuine Feast
As the old year gently makes way for the new, Casa Nova's kitchens celebrate by preparing a special New Year's Eve dinner in Newcastle to embrace authentic Italian customs and cuisine. Picture a traditional Italian celebration in the heart of Newcastle, brimming with warm focaccia bread straight from the oven and crispy steak fries, embodying the spirit of generosity that the holiday season brings with it.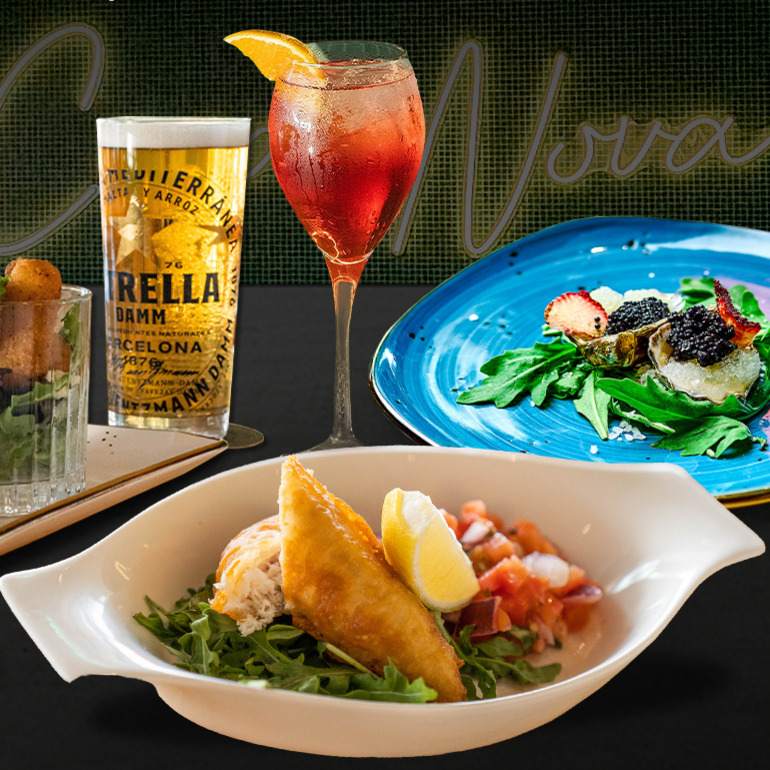 Each succulent bite of the Grilled Tiger Prawn promises prosperity in the Italian tradition, carefully grilled to perfection at Casa Nova. To elevate this gastronomic experience, Casa Nova pairs the menu with select bottles of vibrant and crisp white wine. These wines, passionately poured with the intention of Italian joy and hope, reflect the sun-soaked vineyards they originate from. As the light, refreshing notes of white wine dance on your palate, you'll be immersed in the richness of Italian tradition, bringing an extra layer of delight to your dining experience.
When you finally stand to raise a toast at the grand finale of your Christmas dinner, the joyful clink of glasses will resound with the chambered heartbeats of your loved ones at the table. But the festivities don't end there. Remember to secure your spot at Casa Nova's exceptional New Year's Eve dinner—a night of exquisite dining and unforgettable moments.
Also Read – The Ultimate Italian Restaurant Guide to Newcastle
Why Casa Nova Is Your Festive Dining Destination
Casa Nova is your go-to festive dining destination this holiday. This isn't your average dining spot. It's an authentic immersion into culinary craftsmanship, served up in a warmly lit, jubilant atmosphere. Every dish here tells a tantalising tale of traditional mastery, ensuring your festive dining isn't just a meal, but a joyfully delicious celebration. So come, revel in the holiday spirit at Casa Nova, where your cheer and the hospitality always shine through.
Traditional holiday meals have an enduring appeal that transcends generations; they aren't just about the food but the shared communal togetherness and memories created around the table. Regarding traditional Italian holiday fare, Casa Nova sets the bar high, creating an enticing blend of timeless delicacies and innovative creations.
This season, don't just dine; immerse yourself in the essence of Italy's festive cuisine at Casa Nova. It's more than a meal – it's memorable moments with friends and family, nestled in an atmosphere that's as cosy and inviting as it is enchanting.
Why wait? Turn your holiday season into an unforgettable Casa Nova festive dining experience. Say 'Buon Natale' with a feast fit for royalty and create enduring memories around the table.
Our festive cheer is just a reservation away – book your table at Casa Nova now, and let's make this season sparkle with flavour, festivity, and fantastic company!
*Please note that our menu items, ingredients, and drink selections may change occasionally; please use these recommendations as a general guide.